i asked my mother not to use wrapping paper this year in order to be kind to the environment and although i know it was hard for my mother... she used almost 100% recycled materials and it made me so happy.  my gifts looked beautiful.
i aspire to have my gifts look like this next year -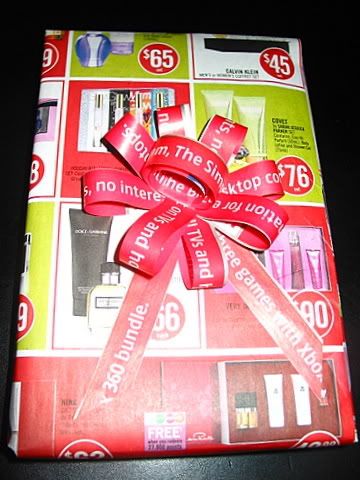 i'll need to start practising soon to perfect this bow making skill!
dinner this year was wonderful.  my mother's turkey was moist and the gravy was perfect.  we get our turkeys from the York Farmer's Market and it's hormone and antibiotic free.  for the first time, i made 2 of my grandmothers finnish casseroles and they came out very nice.  we did burn them while trying to brown the tops but the burnt part lifted right off in one nice piece and underneath was delicious ;)  these casseroles are an important part of our family traditions and as my mumma is in her 80's, we thought someone else should take over the responsibility.  i am pleased that my place in the family is one that includes cooking; something i love dearly.
the exchange of gifts this year seemed much more calm and i actually enjoyed it a great deal.  i think this year we all realized that LESS is MORE.
my kids got a lot of clothing which is great.   kids ALWAYS need clothes.  there were only a couple of "made in china/blinking lights/electronic singing plastic" toys.  the rest were creative, peaceful and lovely.
of the grown up gifts, some of the favourites were:
a fabulous cookbook that embraces natural, organic GOOD food:
a ringer t-shirt in apple green, bought for my husband by my sister that says "fairly traded: disrupt the status quo".  it's my favorite shirt EVER.  it's made my a co-op of women in el salvador and sold by a canadian company.
and finally, what i'm wearing right now - a pair of black organic cotton tagless pyjamas.
comfiest.  pj's.  EVER.
and now, i'm going to cook up some sri lankan curry using my fair trade curry spice from 10,000 villages and then i'm going to put the recipe in my new recipe scrapbook. 
merry xmas!